VSO Lauds NYSC for their Support Towards Its Programmes
(Last Updated On: July 11, 2017)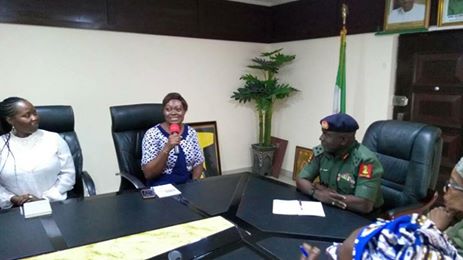 The National Youth Service Corps has been commended by the Voluntary Service Overseas (VSO) for its support towards the success of its programmes in Nigeria.
The commendation was made yesterday at the NYSC National Directorate Headquarters in Abuja, by the VSO Country Director, Lucia Balonwu; during a visit to the Director-General, Brigadier General Sulaiman Kazaure. VSO is partnering with NYSC on the National Graduates Volunteer Programme (NGVP). This programme involves the deployment of Ex and serving Corps members who volunteers to work in the areas of education, health and agriculture.
The VSO Country Director, Lucia Balonwu, thanked NYSC for the opportunity given to VSO to engage Corps members in its programme implementations, and added that the presence of the Scheme in all parts of the country has made it a good partner in any development project. "As a result of our partnership, we have been able to reach several states across Nigeria, and been able to enrich the lives of youths in the country as well as communities," she said.
The NYSC management were briefed by the country Director on the various VSO that is currently being implemented in most staes. " Apart from contributing to development of communities, the VSO also seeks to build the capacity of youths to work with community members for development purposes" she said. The need to instil the spirit of volunteering in Nigerians, especially the youth, was also emphasized upon by her.
The Director General of NYSC, Brigadier General Sulaiman Kazaure, in his response praised VSO for its various programmes and also assured them of NYSC commitment to the success of the partnership between the two organizations.
He also assured them that NYSC will continue implement ways to instill the spirit of volunteering among Corps members. However, he urged Voluntary Service Overseas to put into consideration, the expansion of their programme to more states of the Federatiion.